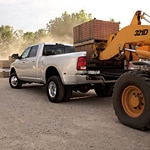 Don't look anywhere else but the Ram 3500 if you want a powerful truck that brings all of the exterior features that you have been longing for all these years. People have commented that it is the kind of truck they wish they had years ago.
LED headlights promote safety at the front of the vehicle while LED lights in the bed of the truck simply make it easier to see what is going on back there when it gets dark out. Both sets of lights make life a little easier for the driver of a Ram 3500.
There are plenty of things that one can customize on this truck. For example, it has fifteen different sets of wheels to choose from, and there are other odds and ends here and there that can make the Ram 3500 a great choice to buy no matter who you are or what your uses are for it.