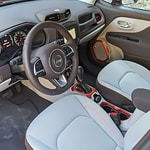 The Jeep Renegade has been a popular new choice from the automaker for those in the market for a subcompact sport utility vehicle. It offers plenty of style that the automaker is known for and interior features that make it a very desirable vehicle.
The Renegade has a range of different interior options to match the style and make the vehicle as unique as you. Choose from a variety of fabrics, colors, and other seating options that provide both classic design and comfort.
Jeep also offers many ways to utilize your seating option in the Jeep Renegade. Comfortably seat up to five or fold the rear seats down for increased storage space while also utilizing side storage pockets as well. The rear cargo room also offers an adjustable floor that can be raised for easier loading or lowered for more space as needed.