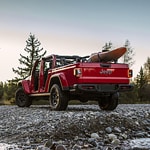 The Jeep Gladiator is a midsize pickup truck with outstanding off-road capabilities, comfortable seats, and a quality infotainment system. It has garnered a tremendous amount of attention from the moment it hit the scene until today.
Optimized Wheelbases
Maneuvering the Jeep Gladiator is easy because the wheelbases have been optimized for efficient handling on rough terrain. The precision steering contributes to a high level of agility. Drivers can seamlessly navigate tight spaces.
Voice Command
The Voice Command feature in the Jeep Gladiator is part of the Uconnect system. It enables you to control music, answer a phone call, and enjoy other entertainment features while leaving your hands on the steering wheel. In addition to being convenient, Voice Command enables you to stay focused on the road.
Want to take the Jeep Gladiator for a test drive? Visit us here at Dunning Motor Sales Inc in Cambridge, OH. It's a great way to see if it's right for you.