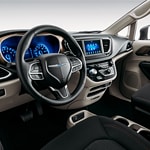 More often than not, when buying a vehicle, most customers look at the vehicle's price and forget other specifications. Many different factors determine the kind of vehicle that you should buy in addition to its cost and your budget.
When you get to a showroom, ensure that you go for a vehicle with useful features and specifications and meet your other preferences. An ideal example of such a vehicle is Chrysler Voyager. Chrysler Voyager has been in the showrooms for a long time and has given promising results to its buyers. This is because this minivan not only looks classy but also has the kind of features that you would look for in a quality vehicle. For instance, you will love the super engine with a 9-speed automatic transmission and 24 engine valves.
You will also enjoy the minivan's good fuel efficiency since it can travel up to 475 miles when its 19-gallon tank is full.