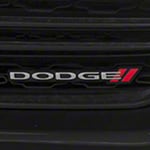 When you have to go somewhere, you have to go. A reliable vehicle is one great way to get from place to place. There are destinations beyond the end of your drive; you can get a vehicle that can take you to fascinating places. Those of us at Dunning Motor Sales Inc enjoy helping you find an automobile fit for your needs.
If you are looking for a high-speed driving machine with great technology features among other factors, the Dodge Charger is a fantastic fit. The infotainment and driver-assist features found in modern vehicles need to have a certain element of class and use. The standard infotainment features certainly do this.
Every model gets a chic seven-inch touchscreen, two USB ports, satellite radio, a six-speaker audio system, Bluetooth, Apple CarPlay, and Android Auto. That's an impressive list on its own. There are many more available safety and infotainment options to further enhance the experience, such as blind-spot monitoring and navigation.