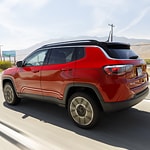 Your safety is the main thing that you have to keep in mind when you are behind the wheel. The Jeep Compass will make your driving experience a lot safer. The anti-lock brakes will keep your wheels from locking up. Stability control is designed to stop you from losing control of your vehicle.
Whiplash is one of the most common injuries in an accident. The anti-whiplash restraints can greatly reduce your chances of being involved in an accident. The restraints are designed to cradle the occupant's head. It can detect when you are hit from behind.
You won't have to worry about the car when you are gone The car won't turn on unless the original manufacturer key is used. The ignition will be disabled. That is why it will be virtually impossible for someone else to drive off in your car.